Preserve your special moment in a one of a kind piece that will be cherished forever
Your wedding is a time of celebration for what the future holds for you and your spouse, and it comes and goes in the blink of an eye. Let Jacob Daniels encapsulate the occasion in a painting that will stand the test of time and bring back the memories of your union. A painting speaks where words or photographs cannot. It not only captures the moment, it captures the feeling.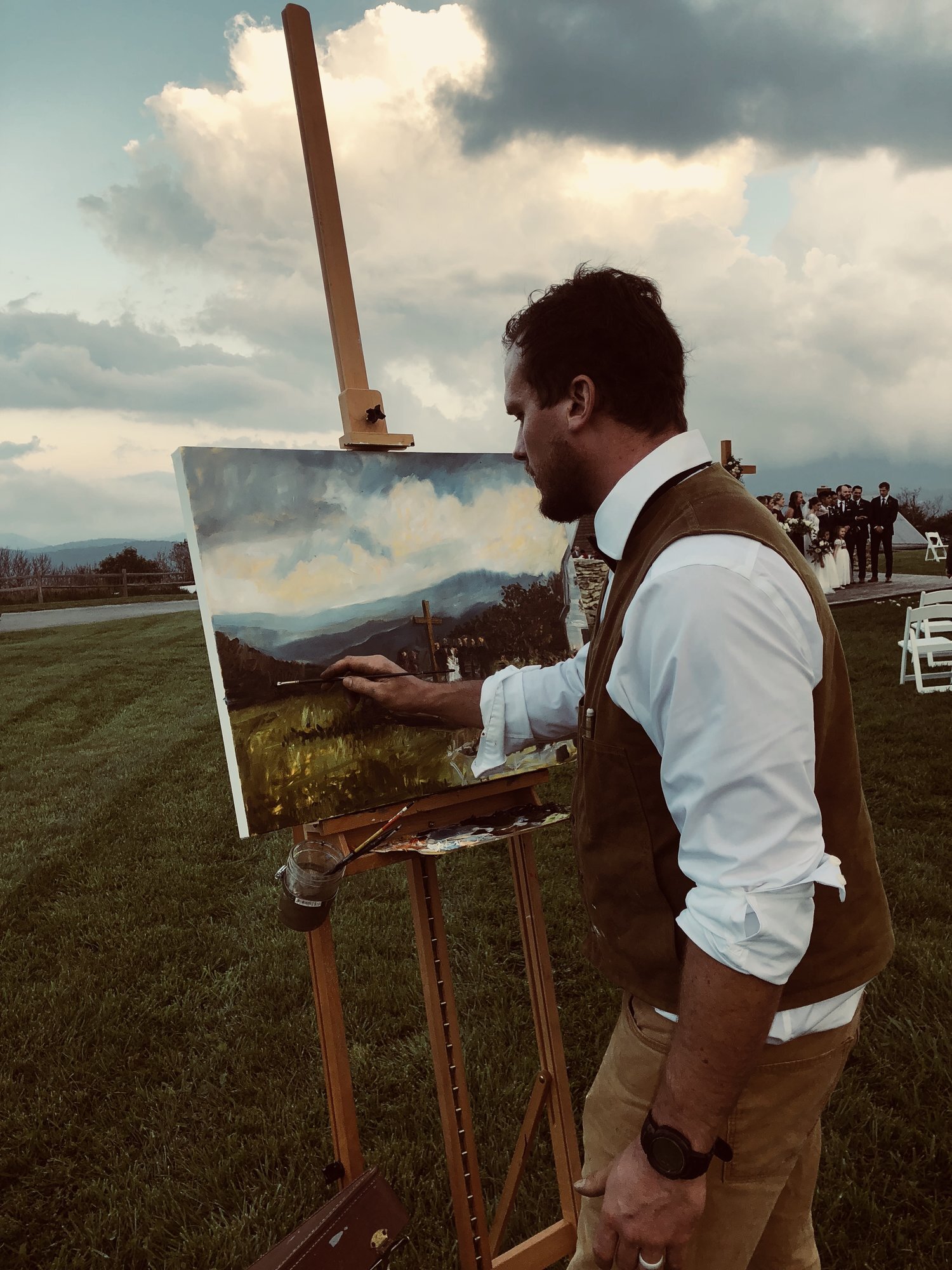 The Process
Choose your setting- Jacob will work with, and can also advise the best setting to paint at your wedding. Depending on the location, either the ceremony or reception may work better. You may also choose the spot which can be as centered or inconspicuous as you please.

Setup- Jacob will arrive at your wedding two hours before the ceremony or reception to set up the easel and paints. He will begin "sketching" the scene and laying down foundational layers. Once the guests arrive he will continue to add details. Wedding painting is a great addition to the entertainment atmosphere of a wedding and generally draws interest. Jacob is used to and enjoys talking to guests as they look on while he paints. Jacobs setup is aesthetically pleasing, self contained, and will not require any other materials. His attire will be formal and consistent with that of wedding attire.

Finishing Process- Jacob will achieve a gestural finish at the wedding to capture the feeling of the mood, lighting, and medium detail. He usually puts most of the focus of detail on the bride and groom. After taking a few reference photos during his time he will take the painting back to his studio to achieve the finishing touches. The painting will be shipped to the couple within a month after the wedding or can be picked up from the studio.
Jacob graduated with a fine art studio degree from Appalachian State University in 2010 and has been working as a fine arts painter for eight years

Jacob practices sound studio techniques derived from old master techniques. His medium of choice are artist grade oil paints on archival grounds that will never fade, crack, or deteriorate.

Jacob offers two different substrates for the painting to be completed on, a gessoed wood panel or gessoed canvas. These can either come in .75inch edges (for framing) or 1.5 inch gallery wrap edges (for hanging unframed)
REVIEWS
"Not only is it amazing art, but it was such a good experience to have Jacob at the wedding. All of our guests were intrigued and were appreciative of the day being captured in such a way. When we received the final painting, we were blown away to say the least. Seeing ourselves in something other than a photograph is priceless. The way he captured our postures and moods with the use of lighting and composition, was well executed. The painting is a more honest representation of our feelings from that day."
-Nick and Piper Rowe
Pricing and Booking
Prices are determined on painting size, distance of travel, and shipping final painting.
I am currently offering three different size options, custom sizes are also available upon request.
Sizes
18"x24" on canvas or panel- $2000

20"x30" on canvas or panel- $2300

24"x36" on canvas or panel- $2600
Travel
Travel cost is $1 per mile round-trip from Boone NC
Shipping
I ship the final product via USPS when finished or offer free local pickup from my studio in Boone NC. Prices determined by size and distance.
framing options available for an extra charge
Deposit and Booking
A $500 Deposit is required to secure your wedding day, which is included in the final price
I also offer wedding paintings from photographs at custom pricing, click book now to contact.
Jacob Daniels is a fine art painter living and working in the picturesque mountains of Blowing Rock NC